Perhaps the most famous of all accomodation in Chiang Mai, Thailand, I recently stayed at Smith Residence for a month. My room ended up being $291 for the month plus another $25 or so for bills. I'd imagine there's some better deals on accomodation than Smith Residence (considering it's pretty heavily advertised).
Yet, only being in Chiang Mai for a month on my first trip, I was content to pay a small premium on accomodation for the ease of finding Smith Residence and the peace of mind staying somewhere well known. No use sweating over paying an extra $20-30 when you know you're going to get your deposit back, and it saves you from having to look at a bunch of other places.
The Room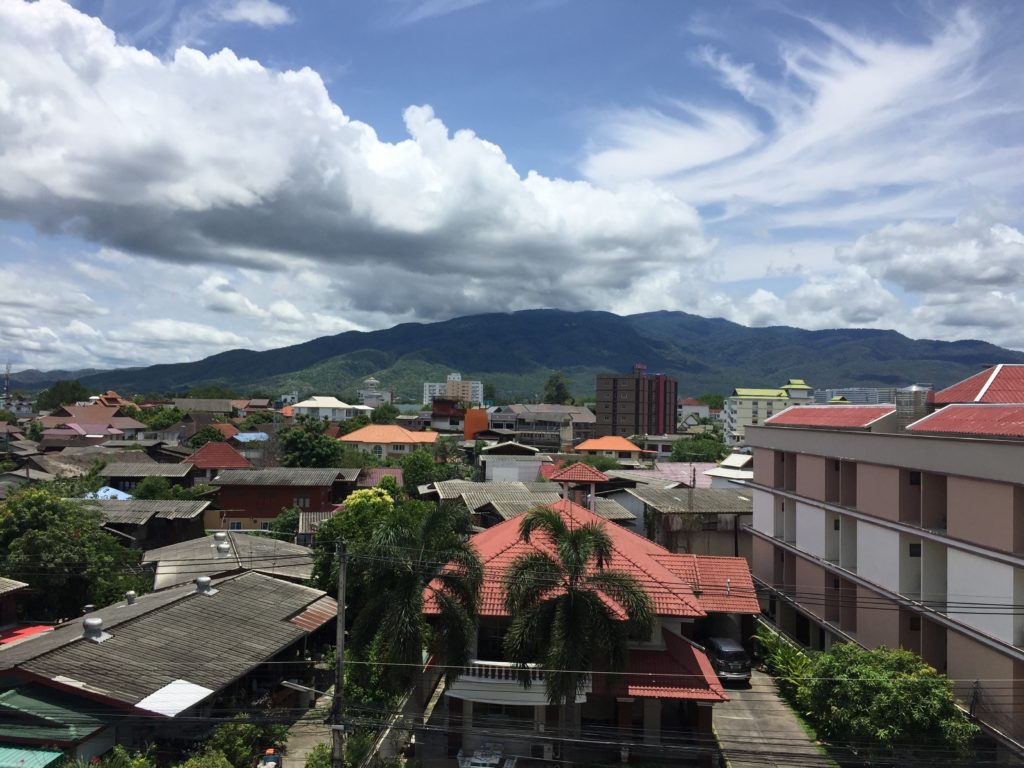 Unfortunately, I forgot to take pictures of the room. This was the view though — pretty nice. If you watch the video at the top of this post, however, you'll get a nice view of the room. It was a fairly spacious studio with a comfortable bed, small balcony, air conditioner, and modern Western-style bathroom.
The prices for the superior and deluxe rooms ranged from about 7,700THB to 10,500THB per month, depending on the room you chose and the length of your stay.
I stayed in one of the deluxe rooms, which at the currency exchange rate during my May/June 2017 stay worked out for my rent to be $291. My bill for a month of elextricity and water ended up being about $25. That was for typical water usage for two people, and using the air conditioner around 5 hours/day.
As of August 2017, the Thai Baht has gotten a bit stronger which makes the prices in Chiang Mai a few percent more expensive.
Also note, you could get a discount of about $10/month if you committed to staying at least three months. For me not a good deal, but it may be for you if you love the place and want to stay in Chiang Mai long-term.
Smith Residence had suites too, but those were about 20,000THB/month ($600) — not worth it for a nomad on a fairly modest budget.
While all accomodation in Chiang Mai is cheap, I still felt Smith Residence was a good deal relatively speaking. You'll probably spend a fair bit more for a similar place near Nimman though.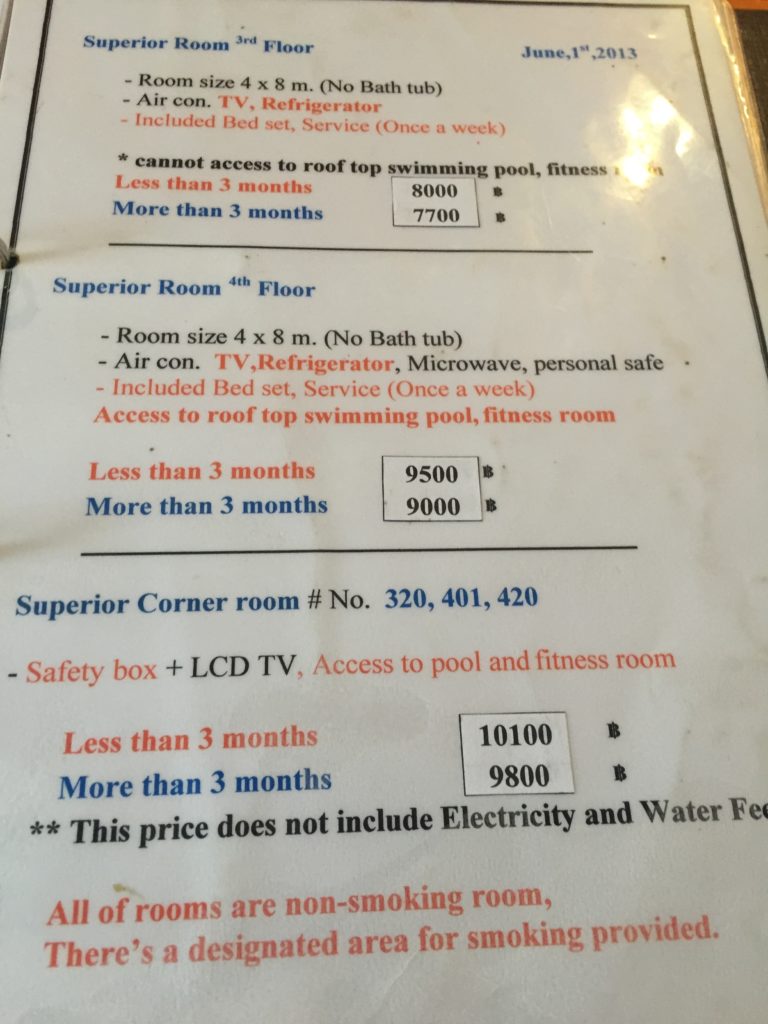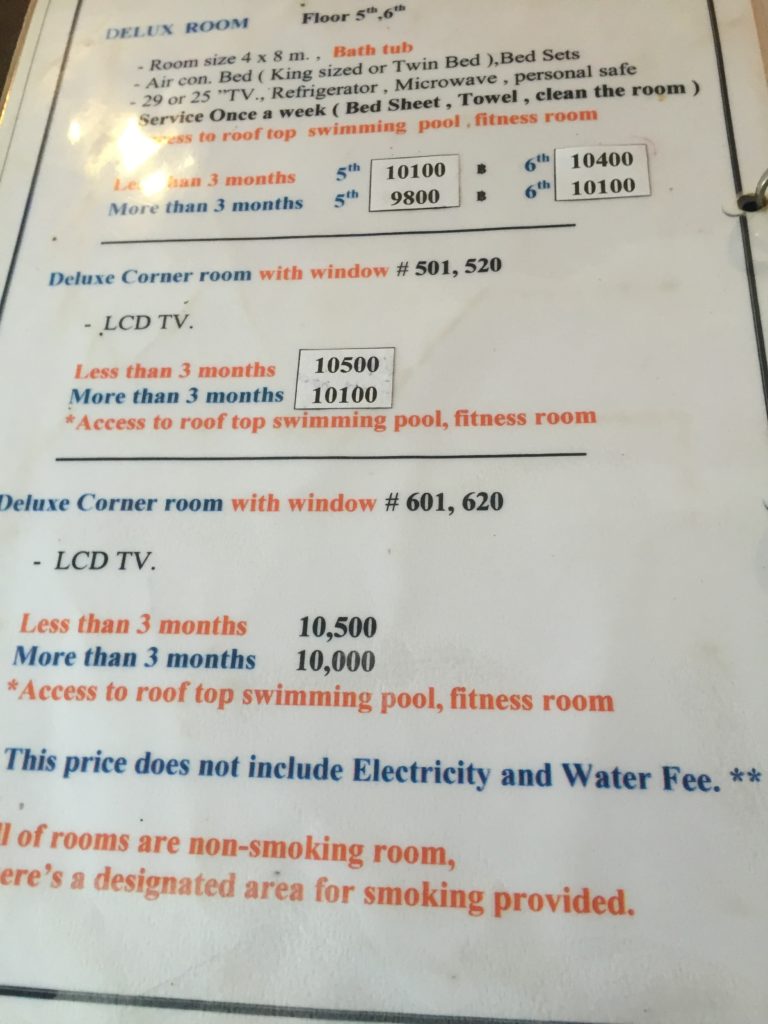 (The pricing options they gave me during my stay in May/June 2017. Check their website for more recent prices.)
Amenities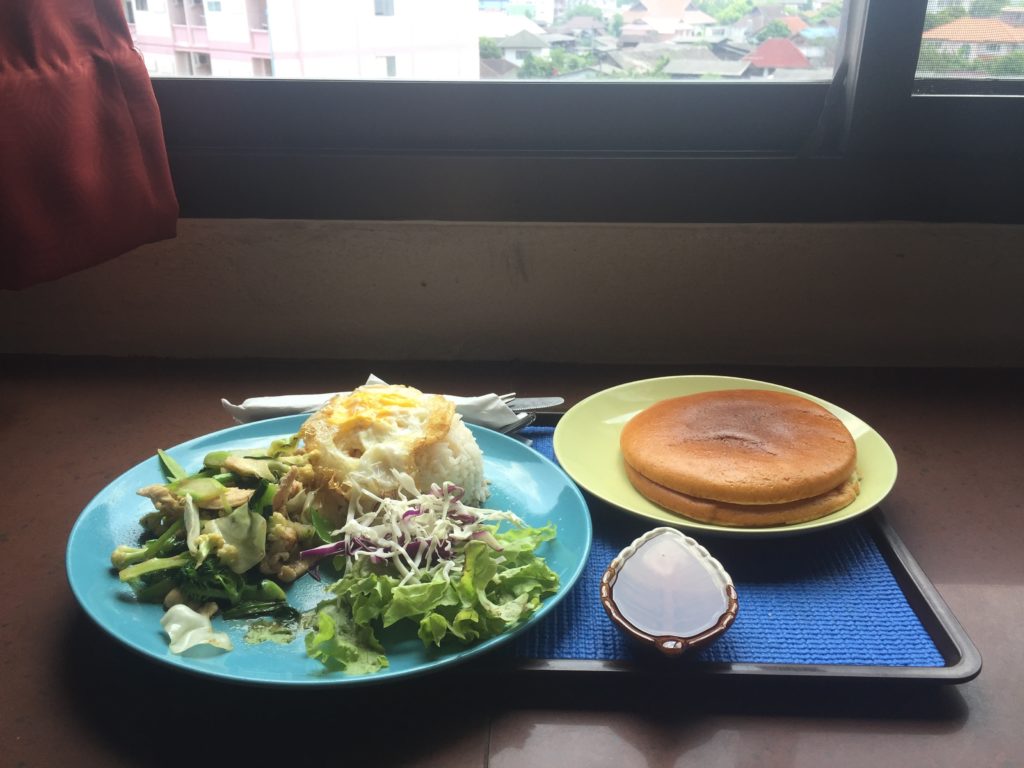 The Smith Residence Restaurant was solid. It had both Western and Thai food. Most of the offerings were around 70-80THB ($2-$2.50). The food at this restaurant was marginally more than typical Thai restaurants in the area. We're talking $.10-$.75 more, however, depending on the dish.
The convenience factor and quality definitely made up for that though. You had the option of either eating in the restaurant downstairs by the lobby, or having the food delivered to your room. We took advantage of having the food delivered many times on lazy mornings or during downpours. The restaurant was open from 7:00a.m. to 8:00p.m.
Other amenities included mostly solid wi-fi, a rooftop pool, ok gym, and weekly room cleaning. More on the pool and gym later.
Location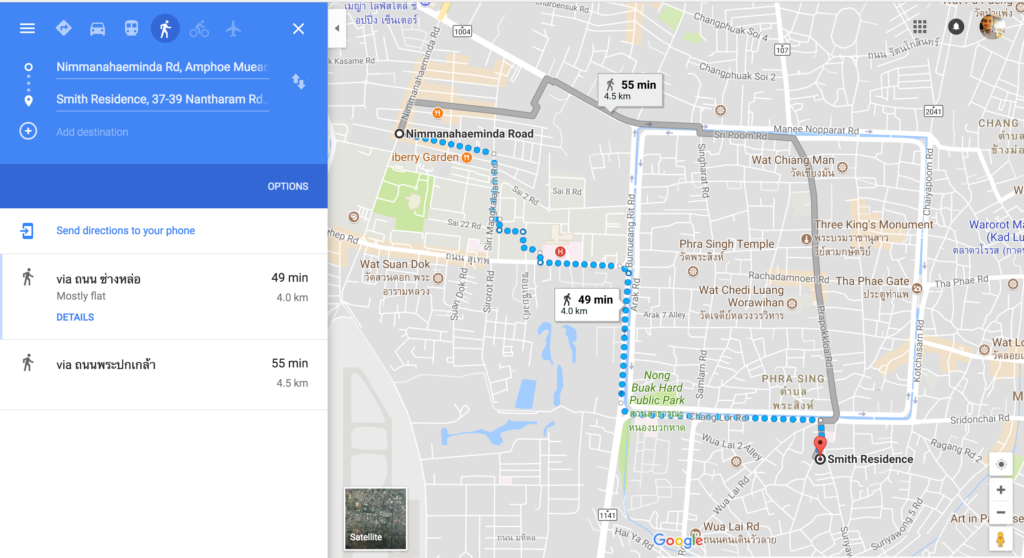 (Google Maps view of Smith Residence to Nimman commute. Being far from Nimman was the only downside to Smith Residence's location in my opinion.)
Smith Residence is located just outside the Old City, which from my understanding is basically that area just above Smith Residence that looks like a square. This area is great for different Western food options and it's also near Loi Kroh Road if you're into nightlife, massages, or bar girls.
More than anything else, however, I enjoyed having an apartment near so many markets. The famous Chiang Mai Night Bazaar (supposedly the biggest nightmarket in Southeast Asia) was just 10-15 minutes away on foot. There was also a large Saturday market everyday a 3 minute walk from the apartment.
My favorite was this market that was open every night. I discovered it with the girl I was seeing at the time. It was crazy cheap, and as a food lover she came to give it the nickname "Heaven".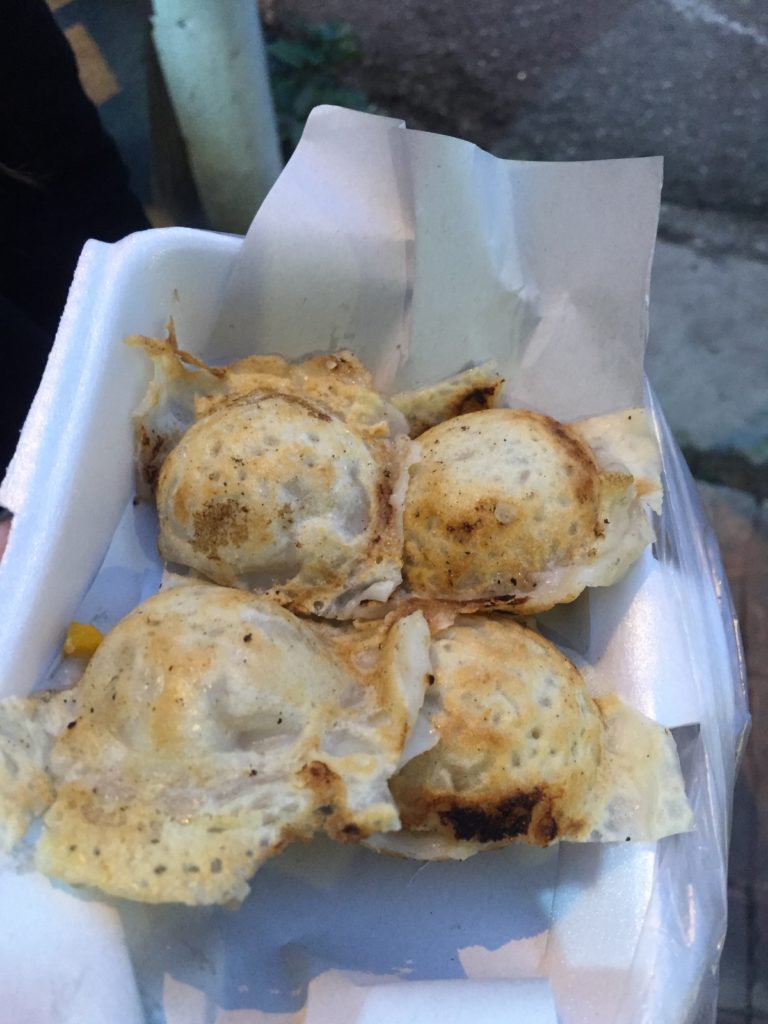 (Some coconut dessert)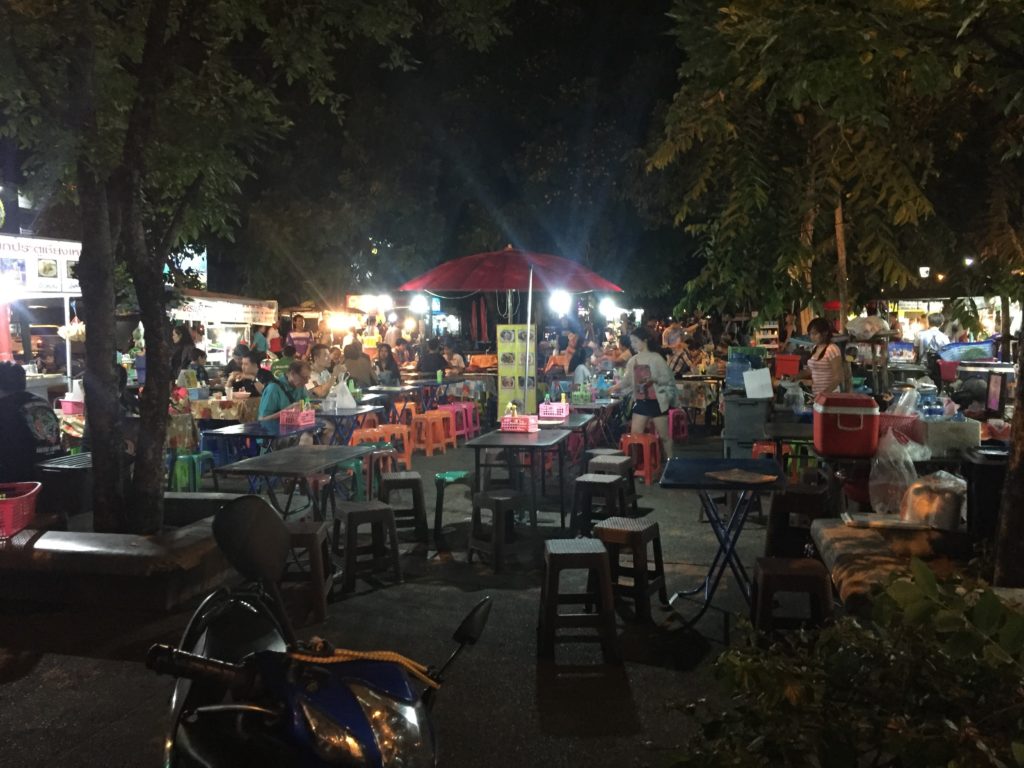 (Night market "Heaven" 2-3 minutes from Smith Residence — open every night.)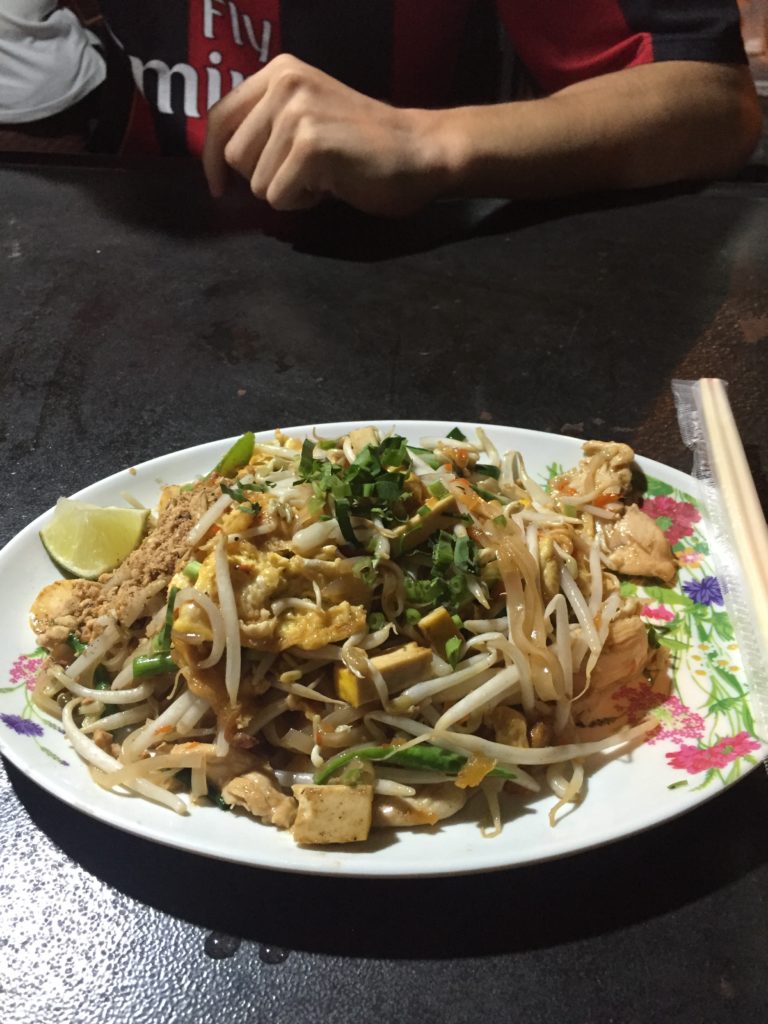 (Pad Thai — 35 Baht or $1-$1.1USD)
Overall
Smith Residence is a great apartment for someone that's new to Southeast Asia. The apartment is clean, and on a fairly quiet side street just outside the Old City. Smith Residence offers room service, friendly staff, a huge expat community (mostly older folks though), modern amenities, a solid location, and an awesome view.
The only negatives I marked down for Smith Residence was that the rooms had no fans (air conditoning only), a pretty weak gym, and that supposedly no guests are allowed to visit the pool or gym.
Guests to your room seem to be allowed, but it'd be a pretty big letdown not to be able to bring girls or your family to swim in the pool. However, I'm not sure how strongly the no guests thing is enforced.
Beyond that, a lot of digital nomads would dock Smith Residence points for not being near the trendy Nimmanhaemin Road — digital nomad central of Chiang Mai.
I didn't mind much not living in the "cool neighborhood". Maybe there's more networking opportunities there. That's the only potential downside I see to not living near Nimman. Nimman is more expensive than the rest of Chiang Mai as well — both rent and food.
The area around Smith Residence had lots of great markets and food options. As someone that was lying low and focusing on improving my programming skills for a month, that was enough to make me happy.
Would I stay at Smith Residence again? Maybe, but I'd like to explore other parts of Chiang Mai too first before making that decision. Should you stay at Smith Residence? Sure.
It's neither the cheapest nor the most luxurious accomodation in Chiang Mai, but it's solid value. It's also a "safe" choice.
My overall recommendation to you is this: Stay at Smith Residence for a month (easily doable without penalties or losing your deposit), explore the rest of the city (especially Nimman), and then settle down in your favorite place.
It's easy enough — once you've got a decent income stream or savings to live off of. Just don't be one of the fools that comes to Chiang Mai with a plan to sell an ebook about how to make money selling ebooks to other nomads coming to Chiang Mai 😉
###
Switching the blog's focus from self-development to travel/nomad content. The same applies for my Youtube channel! Stay tuned, and enjoy!