Overview
If you're spending a lot of time on your laptop, getting a laptop stand is basically a necessity. Laptop stands such as the Roost or Nexstand K2 help prevent you from hunching over too much at your computer (I'll use the words Nexstand K2 and Nexstand interchangeably throughout this post). A laptop stand combined with a quality bluetooth keyboard and wireless mouse will do wonders for your ergonomic seating setup!
If you want to maximize your ability to focus on your work, while minimizing the pain and damage to your body that result from sitting several hours each day, it only makes sense to purchase a laptop stand.
While the most popular laptop stand is probably the Roost laptop stand, I opted for a Nexstand K2 because I received an excellent deal on one. A mutual friend in Ho Chi Minh City purchased a dozen Nexstands to reduce his shipping costs and was selling them at a breakeven price in order to unload them and build good will in the online entrepreneur community here.
With that being said, I'd purchase a Nexstand again in a heartbeat if I had to. Before I had a Nexstand, I would almost always find myself slouching over at my computer while working. If I was sitting and working, I was almost guaranteed to be slouching. The only time I wouldn't slouch was when I managed to find a standing desk.
Even then, being slouch-free was no guarantee because most of the standing desks I'd used were too short for me to stand straight up! In fact, the only time I could work with solid posture was when I placed my laptop on top of my refrigerator. I'm not ashamed to admit that I spent countless late nights over the past couple years working at my "fridge desk".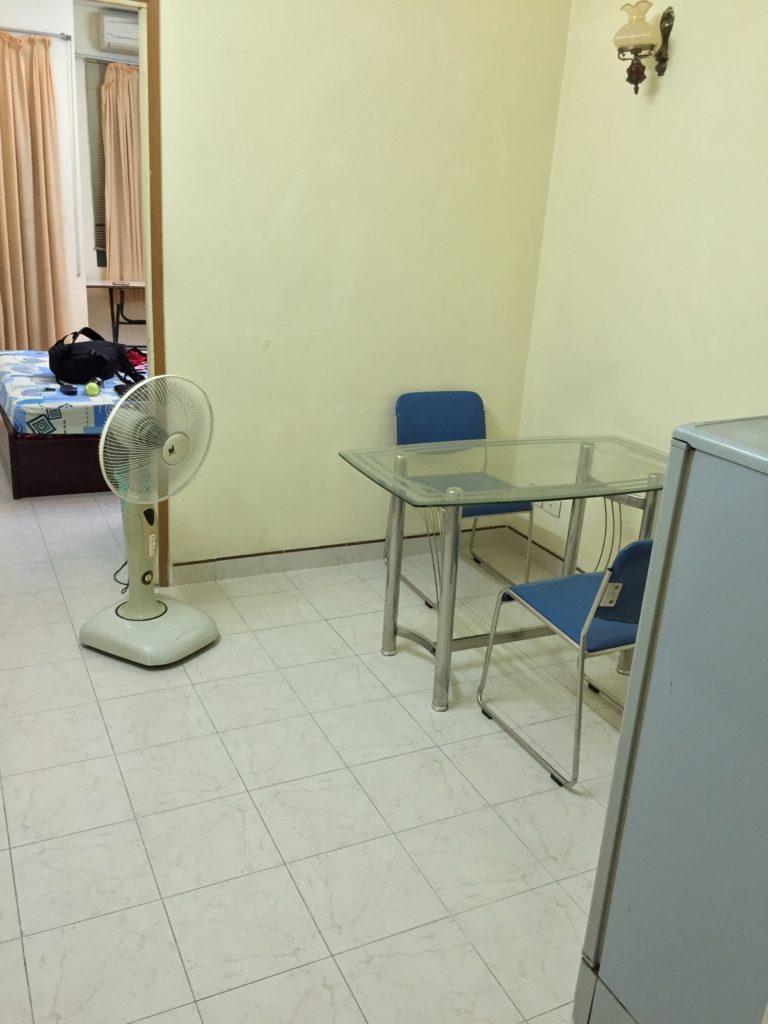 (Yep, that "work table" went unused in favor of the fridge desk)
It seems I've come a long way since then. You can too! While the Roost is an excellent product and I have many friends that are big advocates of it, I think the Nexstand K2 is the best option for most people. The Nexstand K2 is affordable, lightweight, durable, and will easily hold virtually any modern laptop.
As I said earlier, I think the Nexstand is the best cheap laptop stand out there. I've been using this laptop stand for almost a year now, and mine is still good as new. However, the primary purpose of this post isn't to give my subjective opinion of the Nexstand. We're here to help you determine whether the Nexstand would be a good purchase for you. So, let's get into the full Nexstand K2 laptop stand review.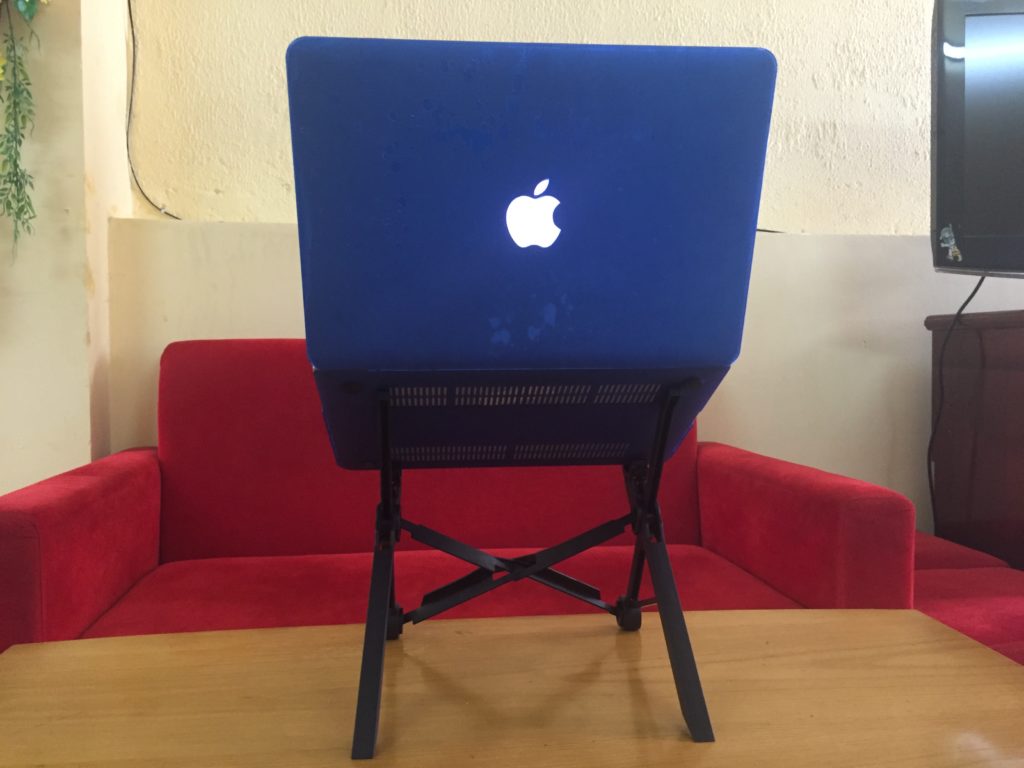 Complete Nexstand K2 Review
In this review, we're going to evaluate the Nexstand on a number of different metrics. This will allow you to easily see how the Nexstand performs in different categories and whether it meets your specific needs. The different metrics we will evaluate the Nexstand on in this review are as follows:
Design
Portability
Durability
Versatility
Price
If you are only interested in specific aspects of the Nexstand's performance (such as being mostly concerned with the stand's price or durability), feel free to skim this review and only read the information that is relevant to you. Otherwise, get ready for the most comprehensive Nexstand K2 review on the internet.
Design
The Nexstand has a solid design and build quality. It's said to be made from environmentally friendly materials. That's an obvious plus (if the claim is true, which is something I cannot confirm nor deny).
Something you'll notice about it on a more everyday basis, however, is that the stand feels very sturdy. The Nexstand is made with industrial-grade reinforced nylon — basically hard plastic.
Beyond that, the Nexstand K2 utilizes metal fittings to hold everything together. The Nexstand is also powerful in that it's able to hold a large amount of weight. According to the official Nexstand website, the Nexstand K2 is capable of holding up to 20 pounds (about 9.5 kilograms). To help give you a more concrete idea of what this means, the Nexstand is capable of holding an amount of weight equivalent to about 2-6 times what the average laptop weighs.
My favorite part about this claim, however, is that the creators of the Nexstand have even taken multiple photos of the Nexstand supporting 10 pound dumbbells. That should give you a lot of confidence that there is virtually no chance your Nexstand is going to collapse under the weight of your laptop.
There are a few more things we should note about the design of the Nexstand. The first is that the Nexstand K2 fits and can be used with any laptop that had a front edge of less than 0.78 inches (2 cm) and a width greater than 10.82 inches (27.5 cm). While this range doesn't encompass every laptop, it's close enough to say just about any modern laptop is going to be compatible with the Nexstand K2.
The Nexstand K2 also offers 360 degrees of natural air flow to help your laptop ventilate. In other words, because the Nexstand has limited contact with your laptop, it is easier for your computer to obtain sufficient air flow and cool itself when necessary.
Finally, the last notable aspect of the Nexstand's design is its anti-skid caps. These anti-skid caps are located at the area where your laptop is being gripped by the Nexstand K2. The nice thing about these anti-skid caps is that they increase the friction on your laptop and do an excellent job of preventing your computer from getting scratched by the Nexstand.
If this sounds good to you, get your Nexstand here. Otherwise, keep reading for more information.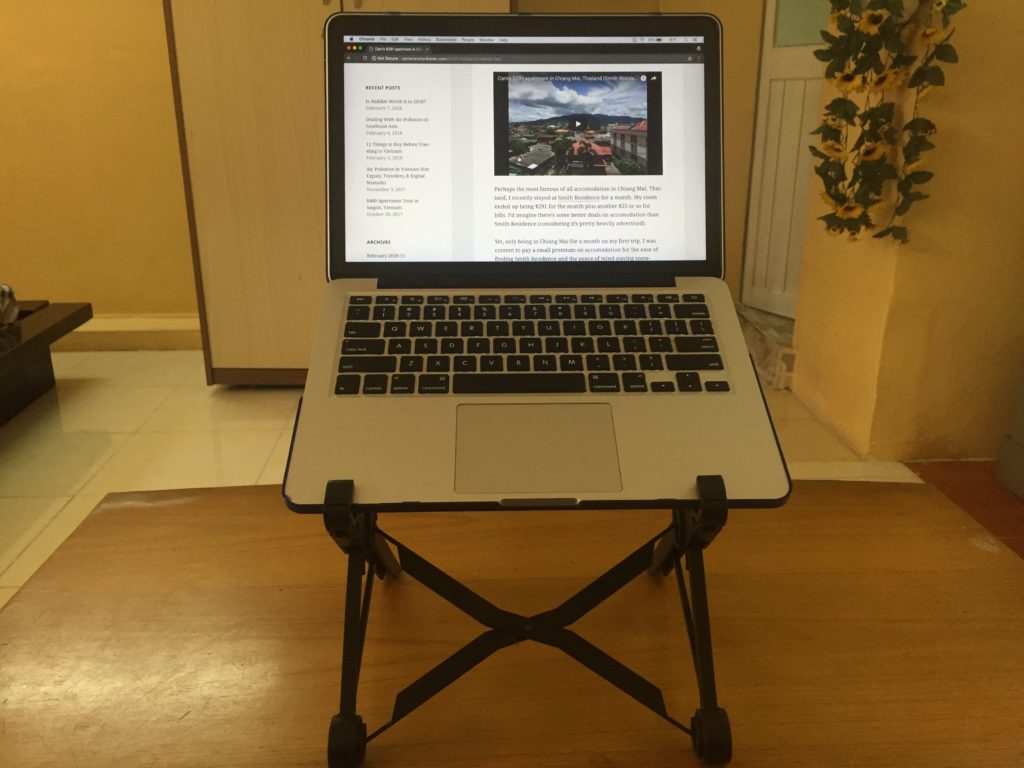 Portability
Is the Nexstand portable? That's a good question. I'd say yes given that I've carried it around with me everywhere for nearly a year. The Nexstand weighs just 8.2 ounces (232 grams). To put an image in your mind, that's slightly heavier than an adult hamster or about 1.6 times as heavy as your average baseball. In other words, the Nexstand won't contribute significantly to the weight of your backpack.
Once folded (which takes all of 2.3 seconds), the Nexstand is only 14-inches (35.5 cm) in length. The width and depth of the Nexstand both come out to be about 1.5 inches (3.8 cm). This makes the Nexstand extremely portable. Whether you'd a coffee shop hustler, business traveler, or digital nomad, you'll find it pretty easy to carry the Nexstand around with you.
I bring my Nexstand K2 with me to the coffee shop everyday to work. I've also traveled extensively with the stand in multiple countries without it taking up a significant amount of space in my backpack.
In fact, the only criticism I can make on the portability of the Nexstand K2 is that it's slightly bulkier than the Roost. The Roost is remarkably only about 6 ounces (171 grams), 13 inches in length (33 cm), and 1.3 inches (3.3 cm) in width and depth.
Still, while the Nexstand feels a bit bigger if compared side by side with the Roost, for everyday use the Nexstand remains perfectly portable.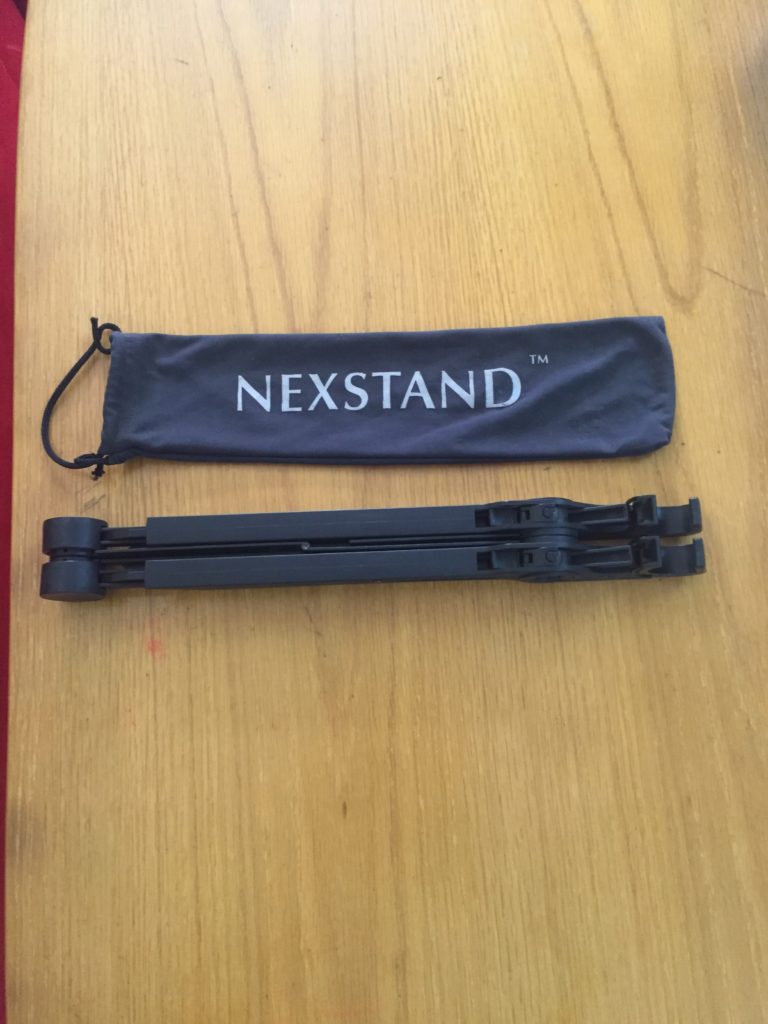 Durability
Everyone wants gear that will hold up over time. While most tech products we purchase aren't going to last a lifetime, we'd obviously rather have a laptop stand with a longer lifespan than a shorter one. As we mentioned earlier, the Nexstand laptop stand is marketed as being strong enough to hold dumbbells.
While I can't say I have any personal experience with my Nexstand K2 in the gym, almost a year later, my Nexstand looks 95% new. I wouldn't be surprised if I was able to use my Nexstand another 4-5 years.
I am going to make a slight criticism of the Nexstand, however. The Nexstand's protective sleeve is pretty pathetic. If my Nexstand ever gets damaged, the sleeve is going to be the reason why. The protective sleeve is basically a smooth glorified soccer sock. Yes, it doesn't look exactly like a soccer sock, but the sleeve basically has the protective quality of one.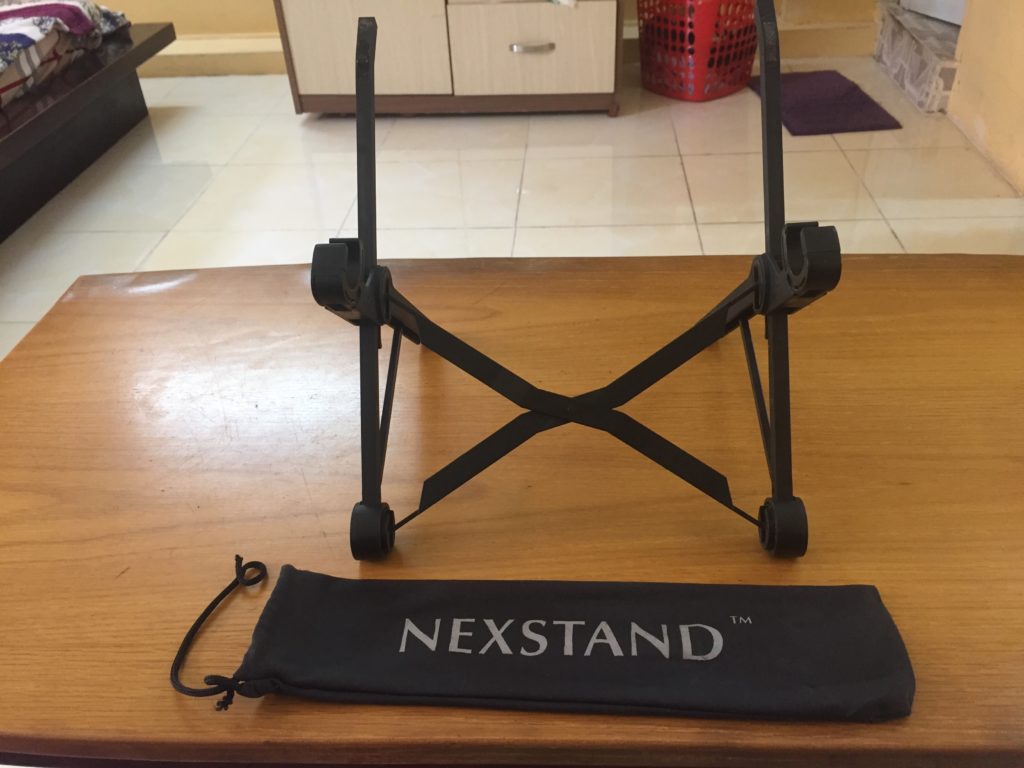 Versatility
The Nexstand has to be one of, if not THE most versatile laptop stands on the market. Depending on your seating or standing arrangement, you can adjust the Nexstand to one of eight different heights. This excellent flexibility is probably the biggest reason I enjoy using the Nexstand.
When I'm sitting, I enjoy using the Nexstand at one of its lower height settings. When I'm using a standing desk, however, I'm able to switch my Nexstand to a more comfortable higher setting.
Changing the height of the Nexstand is both quick and easy. Because there are so many different height options, you can configure the Nexstand K2 to be the perfect height for your particular use case.
Price
The Nexstand K2's affordability is probably the biggest reason I'm such a huge fan of it. Depending on where you purchase the Nexstand, you'll typically be able to pick one up for between $30 and $40. This is about half the price of the Roost, which is likely the Nexstand's most relevant competitor.
Review of the Nexstand K2 Laptop Stand's Pros & Cons
Is a Nexstand K2 laptop stand worth it? I'd answer a definite yes to this question. For the ultimate ergonomic setup, you'd pair a Nexstand with a bluetooth keyboard and mouse. Even without the additional keyboard and mouse, however, I'd still say that a Nexstand K2 is an excellent value product.
Beyond saving me a considerable amount of back and wrist pain (which is priceless in itself), the Nexstand has also helped me sit in more ergonomic positions conducive to focusing. There is no doubt in my mind that the moderate boost in productivity I've enjoyed as a result of purchasing the Nexstand has been worth a dozen times the price I paid for this stand.
The Nexstand isn't without problems of course. Its protective sleeve is pretty wimpy. If you get in a collision, there's a good chance your Nexstand is going to take some damage. I've also left my Nexstand behind at a restaurant or coffee shop at least twice. So, there's always the possibility of misplacing this small laptop stand as well.
Overall, however, if I lost my Nexstand K2, I'd purchase another one by the end of the week. To be fair, I may be hyping up the Nexstand a lot as it was the first laptop stand I ever used. If I used my friend's Roost laptop stand on a daily basis I may love the Roost just as much as my Nexstand.
Still, I'd say that once you experience work with a quality laptop stand like the Nexstand, you won't want to go back to working without a laptop stand again. If you've read enough and would like to get your own Nexstand K2 laptop stand you can do that here.
Disclaimer: I will get a small commission at no extra cost to you if you purchase the Nexstand through one of the links in this post. I don't recommend products to you that I don't honestly believe will change your life for the better.
These small commissions help offset the cost I incur as a result of maintaining this website and rejecting additional client work. Any small amount I'm able to generate through my blog helps give me more time and mental energy to continue producing these honest in-depth detailed posts for you in the future.
Without enough support for this blog, I'll have to de-prioritize it and instead focus more heavily on client work to sustain myself. As such, I would appreciate you buying the Nexstand through one of my links in this post.
If for some reason you are opposed to me getting compensated for the several hours it took to produce this post for you, however, you are free to go to Amazon or another retailer directly. In any case, I still believe this product had the potential to help you improve your life and would love for you to capitalize on that.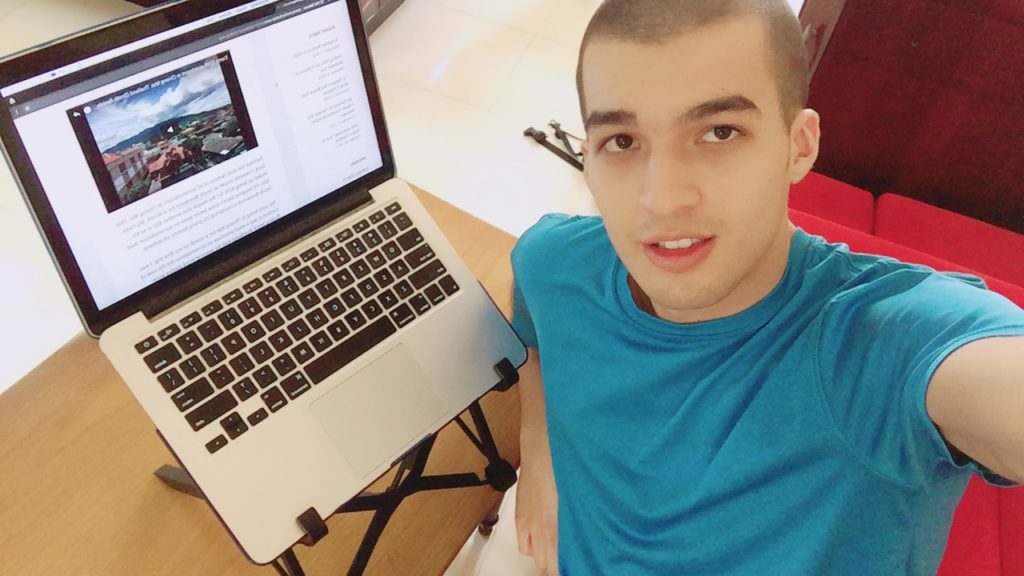 Additional Questions
Question: Should I buy the Nexstand or Roost laptop stand?
Answer: That depends on your budget and personal preferences. The Nexstand is more versatile and significantly cheaper. The Roost laptop stand has somewhat better durability and is slightly more portable. The laptop stand you should choose is dependent on what characteristics are most important to you. To most consumers, however, I recommended the Nexstand K2.
(An image of the Roost laptop stand)
Question: Do I Need a Nexstand if I Use a Standing Desk?
Answer: While standing desks tend to promote healthier body ergonomics than sitting desks, a Nexstand may still be useful for you. I've certainly found that to be the case. For one, a Nexstand allows you to easily adjust to standing desks of different heights. A Nexstand could also be useful if you're using a shared standing desk, table, or bar, and you're required to share your workstation with someone else of a different height.
Your coworker or team member may adjust their workstation to be at a different height than you prefer. When this happens, you can potentially use the Nexstand to compensate and put yourself back into a healthy work position. In short, a Nexstand can be useful even if you're already working at standing desk.
Plus, don't discount the fact that you're not always going to have a standing desk available to you. Want to get some work done at the restaurant or airport? A Nexstand or other laptop stand sure would be useful.
Conclusion
Thank you for reading my comprehensive Nexstand K2 laptop stand review. If you feel motivated to up your hustle game with a Nexstand K2, you can pick one up from Amazon here.