I've already done a post on whether KL is a good destination for digital nomads. The short answer — KL isn't super exciting, but it's an inexpensive city and a great place to focus on getting work done (click here for the longer answer).
That post was one of my most popular posts the last several months. You seemed to have gotten a lot of value out of it. For that reason, I thought you might enjoy me dishing out a bit more information to you on KL. While KL may not be the best destination for many nomads, it's a great place for border runs or a weekend getaway. Here's why.
#1 Cost of Living
Kuala Lumpur is very inexpensive. Budget hotel rooms can be found for just $10-$20/night. Food is cheap as well. The Malaysian and Indian food in KL is among the cheapest I've seen in Asia. Presumably the Chinese food in KL is cheap as well. I can't comment with as much authority on that, however, as I'm not into Chinese food much.
Regardless, a couple dollars will easily satiate your hunger regardless of which culture's food you like best. You could easily live a decent lifestyle in KL under $1000/month. It's a bit more expensive than Saigon or Chiang Mai, but not much. While you'll spend a bit more each day here on a short trip because of increased accommodation costs, this $1000/month figure should give you a good idea of how affordable KL is.
#2 Airport
KL is an awesome hub for flights. Kuala Lumpur is well connected to lots of the other top cities in Asia. Whether you'd like to go to Bangkok, Saigon, or Bali, you'll find KL often has some of the most competitive prices on international flights. I've also found it's typically cheaper to fly to the US from Kuala Lumpur than Saigon or Bangkok.
These cheap flights, however, make KL an awesome border run destination because they get you the stamps you need for your passport at a surprisingly affordable cost.
#3 Few Awesome Tourist Attractions
Kuala Lumpur has some really cool tourist attractions. The Petronas Towers, and Batu Caves for example, are two of the coolest sights Southeast Asia has to offer. Beyond that, however, my experience of KL suggests that it's a fairly uneventful place to live. Perhaps that would change if you really established roots there.
From what I've seen, however, you'll likely get bored staying in KL for a few months. Instead of trying to make Kuala Lumpur your base city, I'd recommend using it as a place to visit for border runs or a short vacation.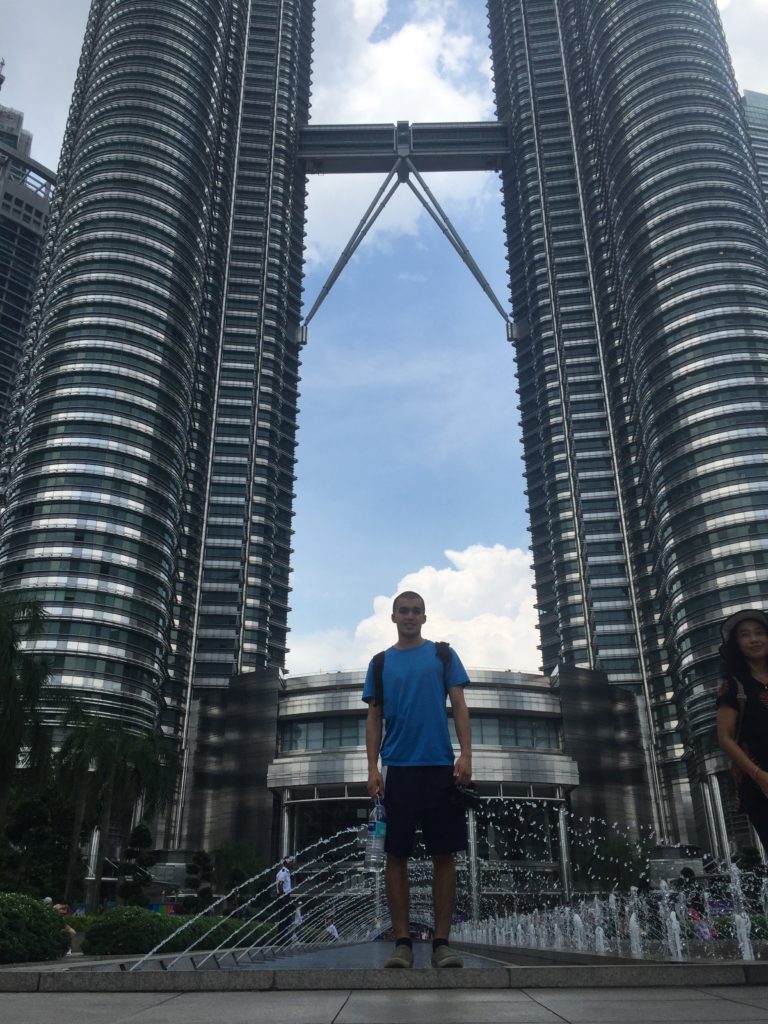 #4 Ease of Entry/No Visa Fee
The final reason Kuala Lumpur is great for border runs or weekend getaways is that visiting Malaysia is easy. US citizens, along with most other nationalities don't need visas to enter the country. There's also no fee for visitor cards on entrance, or departure fees either. Getting through immigration shouldn't cost you any money in most circumstances.
Many nationalities also receive permission to stay in Malaysia for 90 days upon entry. This offers you a lot of flexibility in how long you stay. You could plan to visit for the weekend, fall in love with KL, and extend your stay extremely easily.
Conclusion
There's a lot to love about visiting KL on a border run. KL makes border runs inexpensive, convenient, flexible, and interesting. I can't think of many other cities in Asia you can say the same for. If you're planning to base yourself long-term out of Thailand, Vietnam, or any country in SEA really, do make a plan to visit KL for one of your border runs at some point.