Dealing With Air Pollution in Southeast Asia
Southeast Asia has a lot going for it. An exciting hustle in the air, delicious food, beautiful women, and some of the world's most exotic destinations and cultural experiences. One thing Southeast Asia (SEA) generally fails at, however, is offering us expats fresh air.
Coming from a small town of about 100,000 people in United States' Midwest region, air quality was never something I'd thought much about. Of course we'd heard a passing mention of it in science or health class, but having breathable air was something I always took for granted until I lived somewhere (Ho Chi Minh City) with poor air quality.
Unfortunately, poor air is something you're probably going to have to deal with if you live in Southeast Asia (SEA). While there are cities in SEA that have clean air, you're not going to stumble upon too many of them on accident. That brings me to my first tip on dealing with air pollution as an expat.
#1 Check Your Destination's Air Quality Before Moving There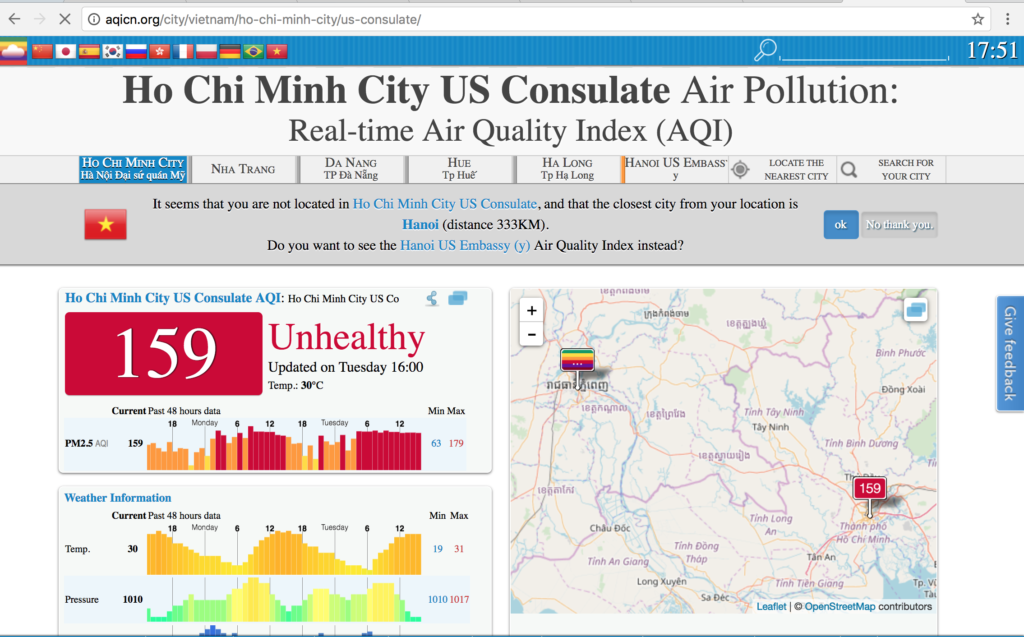 This tip may seem obvious in the context of this article, but it's something that most people don't consider enough before accepting an overseas position or choosing a base as a digital nomad. While we'll discuss some methods to avoid coughing to death from air pollution later, a better solution is to simply manage your risk in the first place.
Air pollution on a holiday isn't a big concern for most of us. We'd obviously prefer breathing clean air over polluted gunk, but some air particles floating around isn't going to stop any of us from visiting Bangkok or Ho Chi Minh City. Short-term exposure to moderate air pollution isn't a major health concern for most of us. It would only be a concern if we were somewhere that was in the middle of a temporary air apocalypse.
Having particulate matter getting wedged in your lungs and steadily accumulating over time is the real concern. That's why you should check the air pollution of any city you're considering living in with a tool like aqicn.org before moving there. Monitor the air quality for some time before jumping to your new home.
Here's how I interpret the readings in my bro sciencey way as someone that's endured a pretty large amount of air pollution the last few years. Just keep in mind this isn't medical advice. It's a subjective opinion from some moderately intelligent young guy on the internet who got a B+ in high school biology back in the day. Your priorities may differ depending on how much you value your health and/or how sensitive you find yourself to be to the air pollution.
0-50: Good — The air is healthy and feels fresh.
51-100: Moderate — The air stops feeling fresh and you'll want to avoid exercising too heavily outside if you have asthma, or some other respiratory problem.
101-150: Somewhat Unhealthy — The air is fairly polluted. You may or may not feel harmed by it in the short-term, but it's not good for you in the long-term.
151-200: Unhealthy — The air feels dirty now. You might get a nagging cough or produce lots of mucus (I sure do). You'll detest breathing deeply outside. You're not going to want to do any serious exercise outside. A few months in a city with unhealthy air isn't a big deal, but I'd personally avoid choosing a long-term base with this level of pollution again (I chose HCMC as my base before realizing how bad the pollution was and will move somewhere with cleaner air in the near future).
If you can trade a year of your life in this type of city for a significant cash windfall or career development it may be worth it, otherwise avoid for anything longer than a month or two.
201-300: Very Unhealthy — Don't exercise too much if you're on holiday. Don't live in one of these cities.
300+: Lung Suicide — Avoid for pretty much anything except a quick layover or emergency situation.
#2 Plan Getaways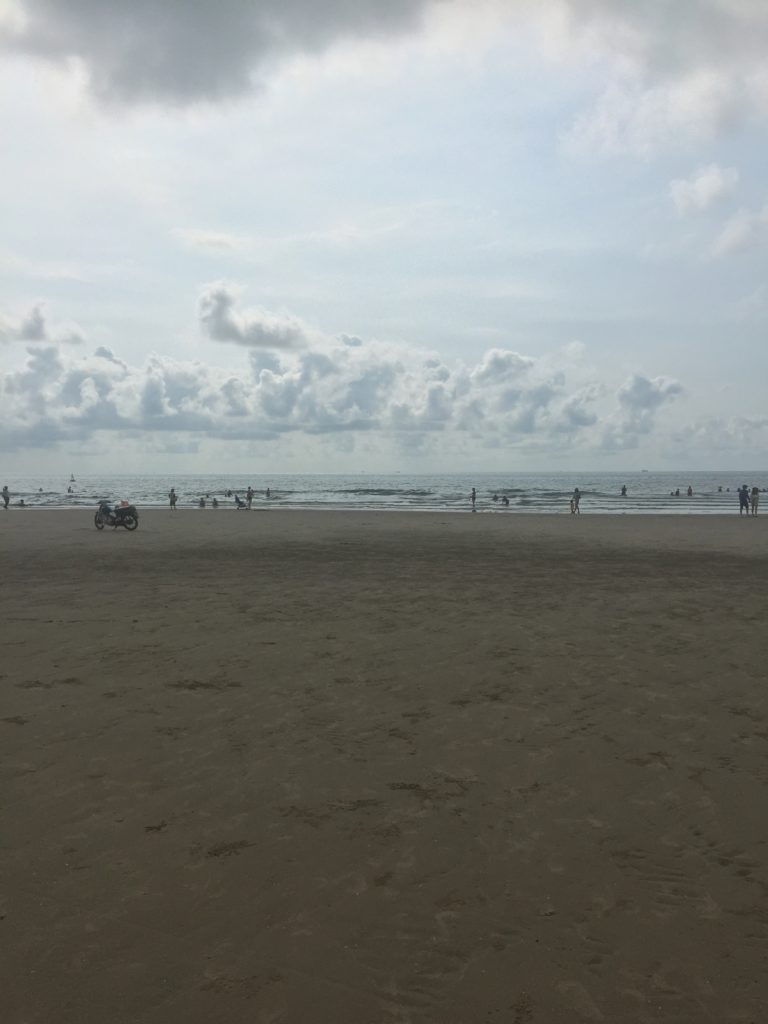 If you choose, or are forced to live somewhere that's polluted, plan little getaways for yourself. I'm not sure how much of a difference escaping the pollution 2-3 days a month will do for your health long-term, but it certainly makes the feeling of dealing with the air pollution much more tolerable in the short-term.
If you're living in Bangkok, consider taking a bus to Pattaya or a flight to one of the Thai islands every couple months. If you're in Ho Chi Minh City, try to plan a monthly escape to Vung Tau, Mui Ne, or Da Lat.
It would obviously be even better for your health if you could live in one of these smaller cities instead, but if that's not an option just switch things up occasionally and plan holidays to these smaller cities for a temporary escape from the pollution.
On a more macro level, consider planning a permanent "getaway" from your current base city that's polluted. I had a friend for example that was getting burnt out last year by the pollution in Ho Chi Minh City.
So, what he did, was he took multiple trips to search for a new base. He found one he liked, and promised himself he'd do research on visa requirements for his new destination, as well as make sure that he'd done everything he wanted to in Vietnam before leaving. He left Vietnam 6 months later, and established his new base in Taiwan.
Consider doing the same for yourself if you find yourself living somewhere polluted (or even just somewhere that's stop resonating with you for whatever reason).
#3 Get a mask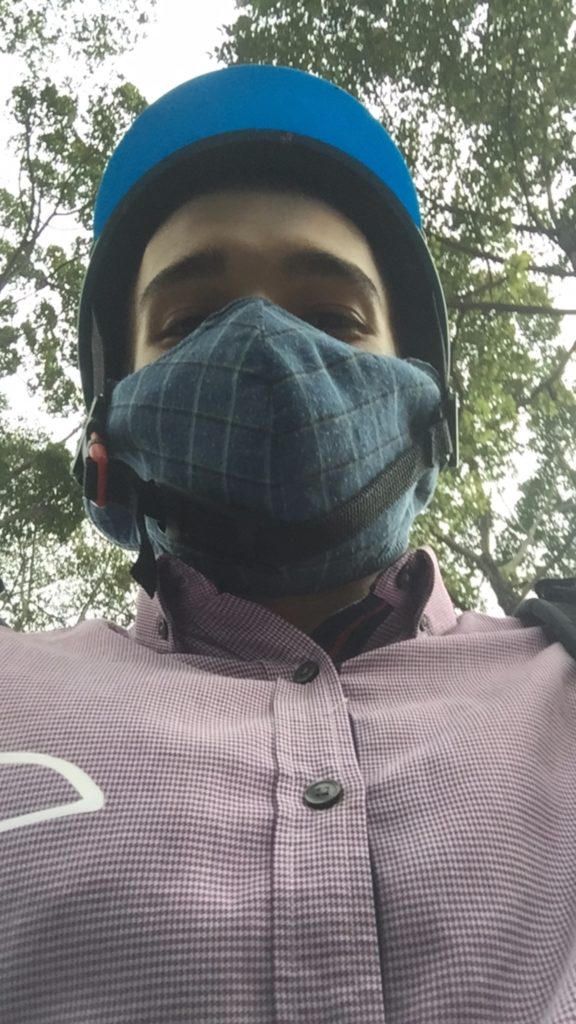 (Rocking a cheap local mask while on the back of a motorbike taxi)
If you haven't traveled in Asia yet, you likely don't realize how ubiquitous masks are amongst locals. I can tell you from living in Vietnam, that damn near everyone is wearing one of these masks. Asian grandma that somehow still manages to ride on the back of the motorbike despite being 90+ years old? Rocking a mask. 21 year old girl on her way to the beer bar? Also rocking a mask.
It doesn't matter your age. The air is dirty in most of these big Asian cities. If you're on a wimpy budget, you can use one of the cheap cloth masks that the locals use. That's a hell of a lot better than nothing. You'll get stared at less for being a foreigner, and you'll probably find they help you not cough so much.
Ideally, however, you'd purchase a mask with a more elaborate filtering system. One of my friends that was having headaches from the pollution found that although he looked like Darth Vadar, wearing one of these souped up filtration masks really helped him.
Respro's Techno Anti-Pollution mask here
is an example of what I'm talking about. While I'm no expert on these masks, Respro is a well-known UK brand that seems to get a lot of love from expats living in China. If it's good enough for them, a Techno Anti-Pollution Mask
will probably be good enough for you too.
Conclusion
Although life in Asia offers lots of perks to a young hustler, it's not a perfect place to live. Air pollution is a very real concern, and one of the biggest reasons I'll soon move to another region of the world like Latin America or Eastern Europe. Or… maybe I'll just live in a smaller Asian city with better air quality in the future.
Don't let me scare you off Southeast Asia, however! The value for your money here is unbelievable, especially in the smaller cities. As long as you're not spending years in one of the highly polluted mega cities like Beijing, Ho Chi Minh City, Jakarta, Bangkok, etc, the air pollution is something most expats find a minor drawback rather than a dealbreaker for living here.