While a lot has been written about living, working, and traveling in Vietnam, surprisingly little has been written about air pollution in Vietnam. While using the snazzy AQI website can give you some quantifiable data on the air pollution situation in Vietnam, here's a more subjective take on what one's experience may be like with the air pollution here.
Of course, this shouldn't be taken as medical advice. Disclaimer aside, here's what I've noticed about the air pollution in Vietnam after having lived here for the last 2.5 years.
What to Expect
First of all, the air pollution here isn't nearly as horrendous as it is in certain parts of China. While the air doesn't feel "fresh" in Ho Chi Minh City, or Hanoi, you're probably not going to be coughing black gunk from going for a run on your weeklong vacation here.
In fact, I'd say that the air pollution would be a negligible concern for most of you that are traveling to Vietnam. Unless you're traveling with a baby, an elderly family member, or someone that already has moderate to severe breathing problems, you're probably going to be just fine on your holiday.
Even living here short-term the air pollution is only a moderate concern. You'll have to learn to wear a mask, and cover your face when you're behind a bus. You'd also be wise to try to avoid exercising outdoors during rush hours or during times the pollution is "particularly" bad (get it?). Generally speaking, however, you'll probably be fine apart from the occasional cough, congestion, or sore throat.
Living here long-term, however, is likely to take more of a toll on your health. Unless absolutely necessary, I wouldn't recommend you live in Ho Chi Minh City or Hanoi more than a couple years MAX. You simply can't optimize your health to the fullest extent while living in these cities.
There's a very realistic chance you'll develop a smoker's cough, or some type of breathing problem living here long-term. That's not a fun reality, but it's the truth. Even wearing masks outside and using an air filter indoors can't completely protect you from the negative effects of air pollution in Vietnam.
So what's one to do if they fall in love with Vietnam? Here's the easiest solution I've thought about in the past and would recommend you consider as well.
Move Outside of Ho Chi Minh City and Hanoi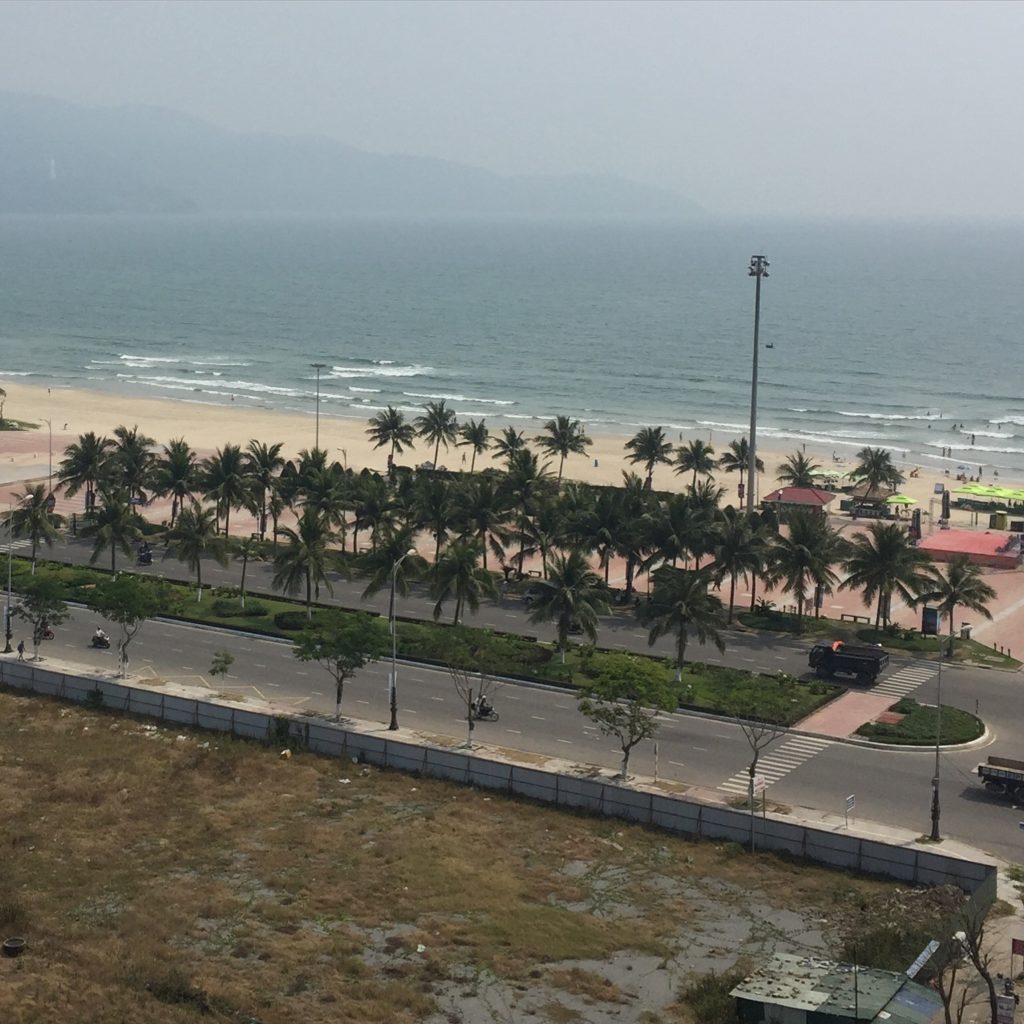 While we talked about air pollution as a problem in Vietnam, that's a bit of an overgeneralization. In fact, the air quality in Vietnam quickly improves once you get outside of Vietnam's two biggest cities. Of course, this doesn't mean you need to trudge on over to a remote rice paddy village just to get a breath of fresh air.
Vietnam has several livable cities outside of the big two of Ho Chi Minh City and Hanoi. If you're looking for a modern city by the beach I'd recommend you consider living in Da Nang. Da Nang has a population of about 1-2 million (depending who you ask). It offers affordable living, beach life, and much fresher air than HCMC or Hanoi.
The downside to Da Nang? There's currently lots of construction going on there. That means lots of dust and other materials flying around in the air that probably aren't great for your lungs. You also have to consider that Da Nang is growing quickly, and that in another 10-20 years will likely have many of the same overcrowded traffic and air pollution problems Hanoi and HCMC face today. You also have to consider that there aren't many local work opportunities for foreigners in Da Nang.
While there are some jobs teaching English, Da Nang doesn't have the turnover problem HCMC or Hanoi have. People generally appreciate the laid back lifestyle in Da Nang. For that reason, when somebody manages to grab a gig in Da Nang, they tend to hold onto it. Even with this being the case, Da Nang is still a good bet if you'd like to enjoy better air quality.
Other livable cities for expats or digital nomads include:
Hoi An — A beach city and tourist town a 40 minute motorbike ride from Da Nang.
Da Lat — A mountain town home to the famous Vietnamese Bahn Trang snack. This city also has a nice night market. You can read more details and some of my advice for traveling to Da Lat here.
Vung Tau — A beach town of about 500,000 people. This town has the benefit of being just a couple hours away from Ho Chi Minh City by bus. This makes it easy to pop into the big city for a weekend of fun or to catch an international flight.
Nha Trang — A beach town of around 420,000 people. It's famous for having nicer beaches than Vung Tau. In fact, many Vietnamese argue Nha Trang has the best beaches in the country. This city is also extremely affordable. I've seen lots of apartments near the beach going for $200/month. This city has few job opportunities though and is overrun by Russian tourists.
Can Tho — A fairly small city located in the Mekong Delta area. Can Tho is about 4 hours or so from Ho Chi Minh City by bus. Can Tho has clean air, however, and doesn't feel nearly as polluted as its bigger brother. This city has famous floating markets on the river that you can visit if you're willing to wake up extremely early.
Conclusion
Dealing with the air pollution in Vietnam isn't fun. It gets old having to hold your breath when you get stuck behind a bus in traffic. Sometimes the air pollution can even make you feel sick or at least lower your mood.
That being said, Vietnam is still a pretty cool place to be. I don't regret the time I've spent here, but I'm also trying to think about my long-term health. That's why I don't recommend you live in Ho Chi Minh City or Hanoi long-term.
The air pollution is a bit too severe. Instead, consider checking out all of Vietnam's other great cities. You'll probably meet me beachside in one of the smaller cities soon enough. Or, when the air pollution gets you down, consider moving to another country with better air quality.
I've considered heading down to Malaysia as that country does a pretty good job managing its air pollution. Maybe you'd enjoy Malaysia too. I know lots of nomads like Phil Hawksworth have moved to Kuala Lumpur, or Penang recently.
Regardless, while air pollution can be a problem in Southeast Asia, don't let it deter you from checking this region of the world out. There's so many new experiences to be had here. Grab a mask, jump on a plane, and come join the party over on this side of the world!