Hey guys, after living there for more than a year, I'm finally bringing you a tour video of my apartment in Ho Chi Minh City, Vietnam. I wanted to move to a new place before publishing this video. Now that I'm settled into my new apartment in Chiang Mai, Thailand, I thought it was finally time to post this video.
The blog post below and video above should give you a good idea of what a mid-range apartment in the center of Ho Chi Minh City offers.
Price
The apartment in the video above costs $350/month. I made a special deal with the owner that those $350/month would include electricity if I didn't use air conditioning. Obviously, however, most apartments in Ho Chi Minh City are going to require you to pay for electricity and some charge for water as well. Fortunately, for me, $350/month included everything.
Location:
Located in District 1, the apartment has a great location. Although some expats choose to live in Binh Thanh, District 2, and District 7, many of the foreigners living here would argue that apartments in District 1 have the best location in the city. This apartment in particular is situated between the large Diamond Plaza shopping mall, and the Saigon Zoo.
The nearby area also has countless restaurants where locals eat Pho, Koreans enjoy Kim Chi, and foreigners stab ribs. Of course, the different ethnicities aren't afraid to enjoy the food from each others' countries either!
Apart from this, the apartment is located in the quiet 18BIS Nguyen Thi Minh Khai Alley. This alley has many foreigners living in it. It may not have as many expats as the nearby 18A or 18B alleys, but it's a more peaceful place to live. For that reason, prices tend to be a bit higher in the 18BIS alley.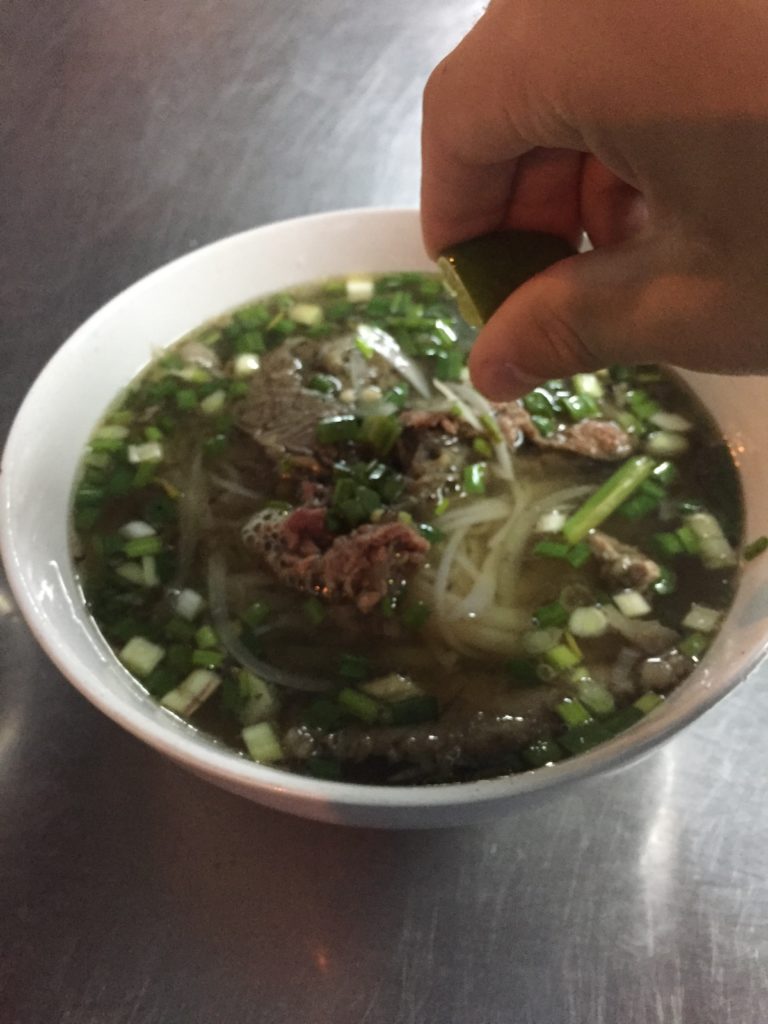 Utilities & Amenities
As noted before, air conditioning, electricity, and warm water are all offered by the apartment. Although my amazing fan didn't leave me wanting for air conditioning much, those that "can't live" without air conditioning would be fine here. Just budget a little extra for electricity.
Free laundry and cleaning are also included with your rent. At any time I was able to put my clothes in a basket outside my room. I'd then usually wait about 36-48 hours before they were washed, dried, and returned to my room. I'd have to hang them up in the closet myself afterwards, but hey, you can't complain about this service considering it's free 😉
We'd also have a lady clean the room about twice the week. She'd come in and wash the floor, dust the table, clean the mirror, change the sheets, make the bed, etc. Although you don't realize it until you leave, having someone to do these tasks for you makes your life a lot easier! More importantly, it saves you time you can invest in more profitable or enjoyable endeavors.
Although the common area had a kitchen, it wasn't something I ever used. My apartment had a fridge, however, and that was something I did enjoy using from time to time. The apartment also offered free parking. This is a nice perk if you're renting in the $150-$350 range. Some of the cheapest apartments for foreigners won't offer you parking.
The one disappointment I had with the apartment was its unreliable wifi. Although it would sometimes be fine for listening to youtube videos or other educational material; the wifi would often go down or work at unusable speeds for hours at a time. That was a big letdown.
Apartment Rules
My apartment in the 18 BIS Nguyen Thi Minh Khai Alley didn't have any unusual rules. We had a key and were free to come and go as we pleased. You had to pay a one month deposit, and pay your rent and other monthly bills in a timely fashion. You were expected to keep noise at a reasonable level at night. Prostitution and drugs were banned. You get the deal.
Conclusion
Just $350/month can get you a solid apartment in the center of Ho Chi Minh City. Although my apartment was a bit small and had unreliable wifi, it had a number of other perks that made it a great value.
Excellent location, cleaning, laundry, free water, free electricity (excluding air conditioning), free parking, and even a handy guy on-site to call if the water wasn't working or you had any other problems. In short, Ho Chi Minh City offers great value for the money in its apartments.
It may not be as nice as Chiang Mai (which we'll cover in the next week or so), but the apartment scene here still offers great prices compared to virtually anywhere in the Western world.